Abbie Funkhouser
<<Back To Design Team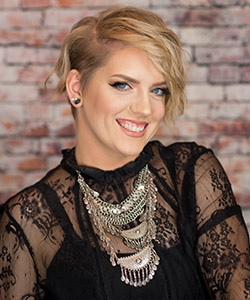 I have been in this industry for over 5 years now. I can truly say that this is my calling and what I'm meant to do, I've never been more proud of whom I have become as a stylist. I completed my education in cosmetology at Winchester Beauty School.
I specialize in short edgy cuts, formal updo's, make-up and hair color, men's cuts and all other hair services. I have been trained to do Babe eyelash extensions and have been certified to do Brazilian blowouts, Babe and So-cap Euro hair extensions.
I love to learn new things and I have so much passion for this industry and I absolutely love what I do and put a lot of effort and dedication into all my work and always strive for the best. I take time to educate my clients and get to know them on a personal level so I can create the best look for them and to make them feel their very best. I will never stop educating myself to become the best I can be and I look forward to my future here at L.L. McKee Salon.